일회용 위장 커버 올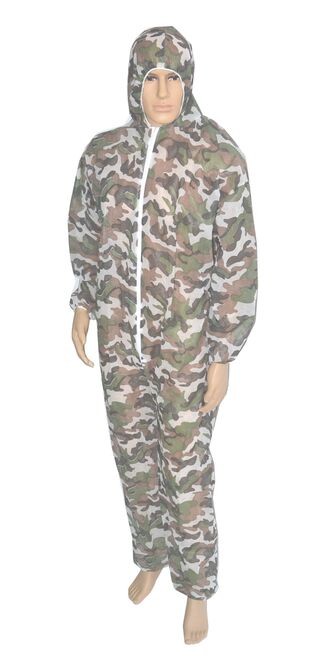 Material: Camouflage printed PP/PET etc.
Color: Black, Blue, Beige, etc
Size: S/M/L/XL/XXL/XXXL
Note: Customization of special size is available
Style: one-piece suit or separated suit, with zipper, with hood or without hood, long sleeves or sleeveless, with zipper flap or without zipper flap, with or without foot cover
Package: 1pc/ PE bag, 50 pcs/carton
CE/ISO13485 certified
Product features and application:
1. Effective protection against dust, particulate matter and some splashes of harmful liquid.
2. With antistatic treatment, it's suitable for any fields require electrostatic control, like electronic industry
3. Stretchy design for hood, waist, wrist and ankle facilitate wearing and body movement
4. Can be used with other protective products to improve protective performance (camouflage mask, camouflage shoe cover, camouflage boot cover, etc)
5. It can be wildly used in paintball game, field survival,